5 Things you can do to take better care of your jewellery!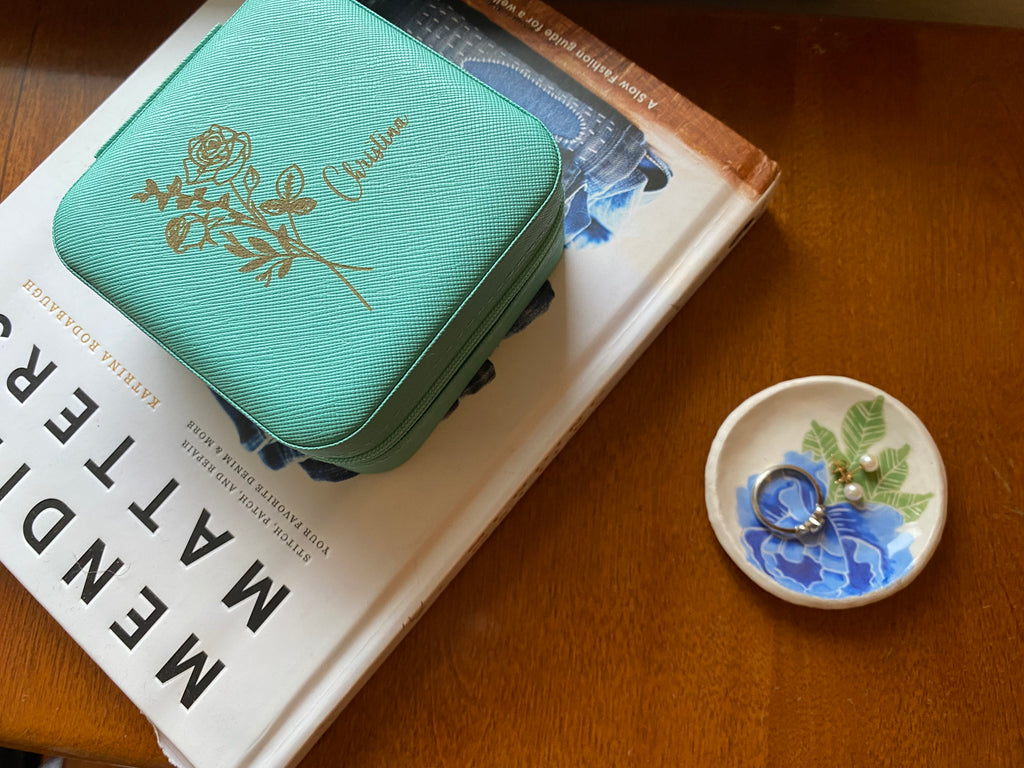 Every time I finish making a ring and take it to my diamond setter for that final step of putting them gemstone in, I am astounded to see how little the metal is that is actually holding that precious little rock in place.  Have you ever taken a look at a ring or earrings that have a gemstone in it (and I mean REALLY looked at it) to see what is holding it in place?  Not very much…and that is precisely why a little care can go a long way.
You may have seen my story on Instagram recently about the diamond that fell out of the ring I wear every day.  I was actually horrified when I noticed it!  I let out an audible gasp and almost woke up my sleeping toddler.  I couldn't believe that of ALL people – me, the one who is constantly lecturing friends about taking care of their rings, calling out my gym buddies on wearing jewellery while lifting weights, religiously removing my rings and earrings before going to bed…that I LOST A DIAMOND?!  And you know what is even worse?  It actually happened a second time less than two weeks after I quickly replaced it on a whim the first time.
Once the shock wore off, I had to acknowledge that as much as I do things to proactively care for my jewellery on a regular basis, I really don't inspect it.  So, take this as your reminder to have your everyday favourites inspected by a professional a couple of times a year (with Daylight Savings Time is a great rule of thumb). 
At very least, give your ring a little shake by your ear and see if you can hear the stone rattling around, or if you can wiggle it with your finger.  If either of those happen, drop me a line and I can advise!
In the meantime, here is a list of some really easy things you can start to do immediately to proactively care for your go-to jewellery:
Always remove your jewellery before going to bed at night. Find yourself a cute little trinket dish or box to keep beside your bed as a daily reminder to REMOVE your jewellery before going to sleep.  It may come as a surprise, but sleeping in your jewellery (especially rings with claw settings) can really take a toll on it.  You'll see in the photo above that I have BOTH beside my bed (but I'm a bit extra).
If you're going to swim, sweat or steam, don't wear your jewellery. The chemicals and pH in pools can impact the finish on your silver jewellery and porous gemstones.  In addition, the activities that typically involve sweating (playing sports, working out, going to all-you-can-eat sushi, etc.) are probably not going to be gentle on your jewellery.  Keep a travel pouch in your bag to leave your jewellery in, or just don't take it with you for those outings.
Follow the rule "last on, first off". Put your jewellery on last when you are getting ready for your day, and take it off first as part of your nighttime routine.  The chemicals in lotions, makeup, perfumes and soaps can impact your jewellery over time.  This is especially true for pearls.
Store your jewellery somewhere safe when it isn't being worn. This could be as simple as a box from the dollar store, but try to avoid something where your items aren't going to be banging on each other.  I actually am really bad for this – but I do keep my more delicate pieces that have pearls and opals separate from my jewellery that is primarily gold/silver or has harder gemstones.
Regularly clean the jewellery you wear all the time. Removing dirt and oil build up will help restore shine and prevent any harsh chemicals from sticking onto your pieces.  I'm going to share some DIY cleaning hacks soon, because cleaning different metals and gemstones involves different techniques.
These are just a few of my recommendations to extend the life of your jewellery.  Quality jewellery that is made to last typically comes with a higher price tag than fast-fashion jewellery.  You are really doing YOURSELF a favour by caring for it!
Of course, if you have any questions or concerns about your most loved pieces of jewellery, I always love to "talk shop" and will help out in any way I can.
Christina XO